Take your business to the next level !
Air Expo provide the perfect platform for companies to showcase their products, services, and capabilities to a targeted audience of aviation industry professionals. With attendees ranging from aircraft operators to manufacturers, financiers to service providers, our events offer unparalleled opportunities to connect with decision makers and industry influencers.
Whether you're a small start-up looking to make a big impression, or a large corporation looking to solidify your position in the industry, our events can help you achieve your goals. 
With a range of exhibition and sponsorship packages available, you can tailor your investment to suit your specific needs and maximize your return on investment.
By promoting your company at Air Expo, you'll be putting your organization in front of thousands of potential customers and partners, while also gaining valuable exposure in the global business aviation community. 
Don't miss out on this opportunity to take your business to the next level – contact us today to learn more about our sponsorship opportunities and how we can help you achieve your goals in the aviation industry.
The Air Expo gathers all of the main players involved in the aviation industry in United Arab Emirates.
The airshow has strategic exhibition dimensions which are segmented for each aviation business need.
The exhibition brings together the major players in the aviation industry, enabling a demanding clientele to discover the industry's latest developments and innovations.
Increase your business in the most promising market in the Middle East.
Exhibiting at the show starts from US$ 2,500.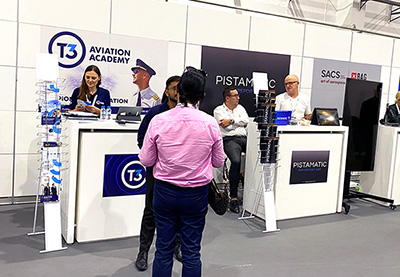 "The show continues to be a worthwhile venue for meeting customers and prospective clients in an area [with] strong demand for its products.
Abu Dhabi is a center for Gulfstream aircraft," Gulfstream regional sales vice president Trevor Esling.
"As the 'Environmental Airline of the Year' we are proud to add our voice to the sustainability panel and this critical discussion around the decarbonisation of the aviation industry. We hope to influence others – from industry to individuals - to encourage everyone to play their part in protecting our planet," said Tony Douglas, Group Chief Executive Officer, Etihad Aviation Group. (See here)
"The aviation sector is on a post-pandemic growth trajectory, and in order to cope with this growth, the industry is ripe for an AI-driven transformation," explained Ibrahim Al Mannaee, NEXT50's Chief Executive Officer. "NEXT50 (See here)
""…throughout the last 12 months, demand had exceeded supply in the region's premium aviation sector. "The overall health of the global private jet market has been strong, and growth is expected to increase as we move into a very busy period packed with events and conferences." Royal Jet Company CEO Mohammed Husain Ahmed (See here)
Boeing Business Jet marketing vice president Charles Colburn. "The show is important to us because of our customer base here. Any time you can get face-to-face with your potential customers, it's well worth it. We spend $500,000 [each] on shows like NBAA, EBACE and ABACE; Air Expo Abu Dhabi is a lot more cost-effective".
Please enter your details below, the team will get in touch with you.
Your details will never be shared with anyone else.